Nerkmids and the Alien Vending Machine
The #1 trusted source for all things neopets: neopets cheats, neopets dailies, neopets guides, neopets plot help, and more!
All About Nerkmids
Nerkmids! They've been haunting Neopets since 2000, and if you place one inside the Alien Vending Machine, located in the new Neopian Plaza
, you can get prizes from a very diverse selection up for grabs. Some Nerkmids are extremely rare, and worth a lot, so any Neopian who gets their hands on one has a big choice to make; sell for a tidy sum, or take a gamble at the Vending Machine?



Nerkmids first appeared way back at the dawn of time - July 10th, 2000
, the same date that Cybunnies were released. They were just a random event until three days later, when the Alien Vending Machine came to life, and the chances of receiving a Nerkmid increased threefold. Nothing happened after, until a SUPER Vending Machine went live in May 2001. It dispensed cool items such as codestones, cards, Neopoints and more. This was later removed, and replaced with the Alien Aisha machine that we see today.
Nerkmids
Nerkmids are the tokens that are needed to retrieve items from the Vending Machine. They can be purchased in the Auction House
, Trading Post
, and even occasionally in the user shops
. It usually doesn't seem to matter which type of Nerkmid you buy - although, it's said that the more expensive the Nerkmid, the better the prizes. Nerkmids usually set you back at least 150,000 NP each, so make sure you've got the cash to spare ;) Oh, and if you're lucky enough, you can get a Nerkmid in a random event - but it's quite rare.
Here's a list of the Nerkmids. Generally, they're in order of how easy they are to get hold of. The one's towards the end of the list are generally considered unbuyable - that is, hard to get hold of, and expensive to buy.

Basic Golden Nerkmid

Normal Golden Nerkmid

Magical Golden Nerkmid

Ultra Golden Nerkmid

Golden Nerkmid X

Golden Nerkmid XX

Lesser Nerkmid

Good Nerkmid

Average Nerkmid

Super Nerkmid

Ultra Nerkmid

Ultimate Nerkmid

Basic Platinum Nerkmid

Normal Platinum Nerkmid

Magical Platinum Nerkmid

Ultra Platinum Nerkmid

Platinum Nerkmid X

Platinum Nerkmid XX

Copper Nerkmid

Aluminum Nerkmid
Using the Nerkmids
You can use your Nerkmids at the
Vending Machine
. You have to answer a few questions on how you want to start up the machine. The options are detailed below :)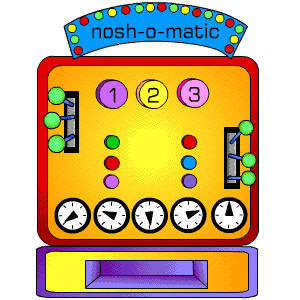 Which large button do you press?
Which small button do you press?
How many times do you press it?
How many levers do you pull?
Hit GO to get your prize - losing the Nerkmid - but also gaining you an avatar for your first time!



Prizes
Each time you use a Nerkmid, you will win a prize AND Neopoints. These can be either fantastic, and really worth the price paid for the Nerkmid; or, you could end up with an item worth little more than 200NP, and just 50NP in cash.
You will always get some free Neopoints. These aren't amazing amounts, but usually something special.



The Vending Machine also has an unfortunate habit of giving out a load of cheap, rubbish gross food. These won't sell and are never really worth more than 500NP, so there is a massive loss associated with the Vending Machine.
But on the upside, you can also win rare paintbrushes from there! It's rare, but they are out there. Even a Lutari Paintbrush - which has yet to be released formally; you can't paint anything with them, so they're considered "inactive" - can be obtained from here.



You can also get expensive gourmet food, other Nerkmids and a trophy if you get a high amount of Neopoints.
There's definitely a risk associated with "Nerking", but the benefits can be enormous. A lot of the items that you get from it are worth loads - but there is always a massive risk involved, so be confident before you start your Nerking. Good luck!
This Neopets help article was written for The Daily Neopets by Samuel.
Incorrect or old information? Contact Us right away! Help us keep this page up-to-date!