Ice Cream Machine
Link to Game
Trophies
Avatar

Play Now!


How to obtain

Difficulty Meter
Neopoint Ratio
We rate this game easy. (this is our rating, not Neopets')

NP Ratio: 10.00
12500 pts :: 1000 NP
Introduction
In this game, you play as Adee the Chia. Your goal is to stay alive as long as possible, score the most point, and avoid the deadly ice cream cones being shot at you!
Instructions & Controls
Use the mouse to guide Adee the Chia around the levels.
Tips & Strategy
First and foremost, be sure to collect the special ice cream cones that have icons on them. The ice cream cones with a shield, minus sign, SMALL chia, and heart are the ones you want to collect. Do not get the ice cream that has a LARGE chia on it (it will make you bigger, which is bad) or plus sign on it. Also, get the Fish Ice Cream (250 pts) and the yellow ice cream cone with a cherry on it. There is also an ice cream scoop (Strawberry Bomb) that will clear the board. It is not worth getting a bonus if it puts your life in danger.
Honestly, this game is all about thinking on your feet. In order to increase your time to think, it's best to stay far back away from the ice cream cones.
Another way some people find helpful to play is to think of the scoops like a moving maze that you need to navigate through. This is especially helpful in later levels when you've picked up a few of the slow-down powerups, but still have a lot of scoops on the screen at once.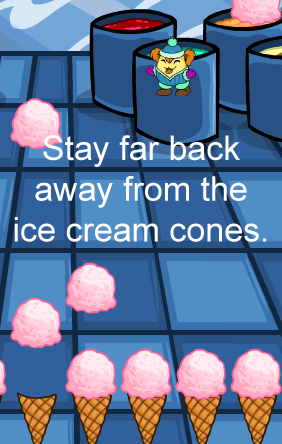 What I generally do is stick on one side of the level (either the far left or right). Occasionally an ice cream cone will be fired on the far left or right, so you can just move out, then move right back to the far left or right.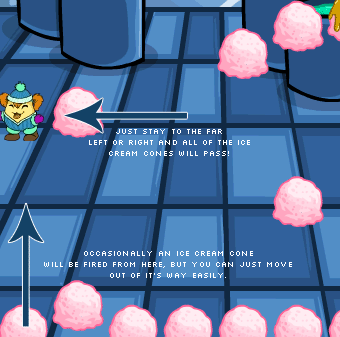 The levels become increasingly harder, so this technique may not work in the later levels (but it is very useful). Make sure not to right click while playing the game, as this will cause the game to immediately end.
Power-Ups
There are various special scoops that are available during game play. Depending on the order they were gathered, they either stack or cancel each other out. Note: If you have shrunk or grown larger from a powerup scoop, you will be reverted back to regular size if you catch a Strawberry Bomb, Cherry Bonus, Extra Life, or Shield bonus.
The Scoop
How it Affects You
How it stacks with other scoops
This adds 100 points to your score.
This bonus removes size bonuses and speed bonuses.
This adds 250 points to your score.
This bonus removes size bonuses and speed bonuses.
This gives you an extra life.
This bonus removes size bonuses and speed bonuses.
This shrinks Adee.
This does not remove speed bonuses. It will not remove a shield.
This makes Adee larger.
This does not remove speed bonuses; it stacks with other size bonuses.

The shield
Adee with the shield
The shield is almost dead
This protects Adee from scoops, while still allowing her to pick up bonuses. It is temporary, but gives warning before going away completely.
This will remove size bonuses as well as speed bonuses.
This slows down the speed of the scoops.
This does not get rid of any size bonuses. This with a speed scoop makes scoops fly at their normal rate.
This speeds up the scoops.
This does not get rid of any size bonuses. This with a slow scoop makes the scoops fly at their normal rate.
This clears the board of all scoops.
This gets rid of size and speed bonuses.
TPOSG Scoop adds 1,000 points to your score.
This removes speed bonuses, unknown about size bonuses.
Cheats
If you type strawberryvanillachocolate in the game, it will give you 1 extra life! You can type it when on the splash screen between levels.
Extra Stuff
Ice Cream Machine is another of the games made by Neopets staffer Oliver (or as he is more commonly known, The Phantom Orange Shirt Guy) and like many of his other games he has hidden an image of himself for players to find! After you click to start the game simply wait about 30 seconds until he appears like in the screenshot below.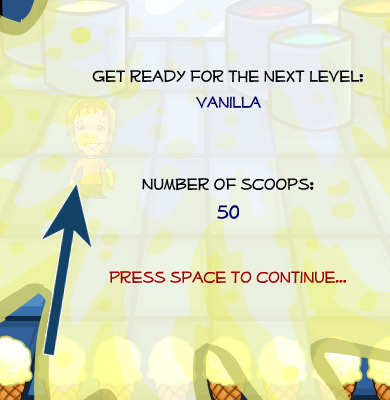 There are some rumours that waiting for TPOSG to appear will increase your chances of receiving better scoops, however this is still unconfirmed.
Conclusion
We have covered how to basically complete this game and how to get past the ice cream scoops. Good luck dodging those yummy, yet deadly ice cream cones!
Written by
Lydia1310
Errors or incorrect info?
Contact Us
.
Neopets Alerts
Neopets Today

Play Featured Game

Featured Band: Yes Boy Ice Cream
« Previous
Now
Next »
Apr 1st - April Fool's Day
Apr 2nd - Shoyru Day
Apr 14th - Grey Day
Apr 16th - Krawk Day
Apr 19th - Lutari Day
Apr 22nd - Kougra Day
Apr 27th - Cybunny Carnival
The Runway Customization Contest
Here Comes Petra Cottontail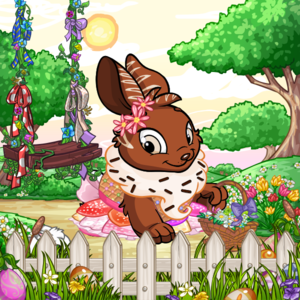 Winning entry #2 for "Easter Cybunny"
Voting for Round 54 has started!
Vote for your favourite entries right here!
Recent TDN Forums Posts