Tyranu Evavu
Link to Game
Trophies
Avatar

Play Now!


How to obtain

Difficulty Meter
Neopoint Ratio
We rate this game medium. (this is our rating, not Neopets')

NP Ratio: 1.00
1000 pts :: 1000 NP
Introduction
This game, though mainly based on luck, has a few strategies and quirks to it. With this guide you should be able to get the avatar after a few days, that is if you don't get into a fight with the Tyrannian pets who host the game!
Controls & Instructions
Most likely one of the simplest controls for any game. Two cards will be presented to you, just like a 52-deck of cards, with Neopian images on it (Aces high). One is face up, the other is face-down and you have to choose if you think the face down card is higher or lower than the face up one. Just click either 'Tyranu' or 'Evavu'. If you don't happen to speak the language, Tyranu means higher and Evavu means lower.

Scoring
The scoring for this game is a little funky, so here is the chart taken directly from the game: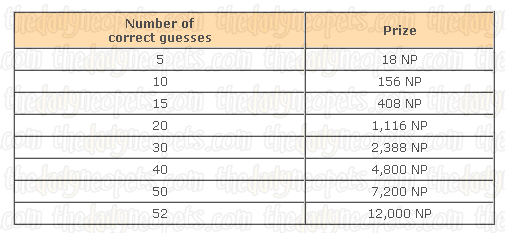 Tips & Strategies
As I said before, this game is mostly luck but there are some things you should be aware of. For twos always choose Tyranu, because there is not a lower card. I'd also recommend that you choose Tyranu for cards 2 - 6 because there is a higher probability of you being correct. This does mean you can still be incorrect, though. ;) For Aces, always choose Evavu, since there can be no higher card. My next recommendation is that you chose Evavu for cards 9 - A, again because of probability.
Now it is time for the difficult part we've all been waiting for. When you are showed middle cards (for instance - 7 and 8) there is almost equal probability of being right or wrong. You could always say Tyranu for 7 and Evavu for 8 but it is usually better to go 'against the flow'. This means, if you have been having one option for a while, like a row of Tyranus, you have to imagine an Evavu will be thrown in somewhere. So once you get a middle one, it is usually luck / instinct that you will go on. The above strategy was based mainly on my opinion and what works for me.
Another strategy would be to write down all the cards as they show in the game (in a document with numbers 2 to 14 marked at the left). For any card that come, you can then establish probability for it to be lower or higher. This strategy comes handy if you manage to guess right the first rounds of the game.
Conclusion
This game is quite simple so you can have that avatar within a few days. Just remember the probability of each choice and you should be fine. Good luck!
Written by
Mike
Errors or incorrect info?
Contact Us
.
Neopets Alerts
Neopets Today

Play Featured Game

Featured Band: Gruundo
« Previous
Now
Next »
Oct 4th - Grarrl Day
Oct 10th - Eyrie Day
Oct 13th - Bori Day
Oct 16th - Jetsam Day
Oct 23rd - Symol Day
Oct 26th - Korbat Day
Oct 31st - Halloween
Recent TDN Forums Posts