Part 2- The Perilous Catacombs
About
Kell and Corbin need to flush the monster out of the catacombs, so their melody can put it to sleep. Help them out by navigating through the tunnels, and making the right choices to collect treasures and avoid curses.
How To
You navigate through the tunnels by clicking on doors. (They will be in different spots for everyone.)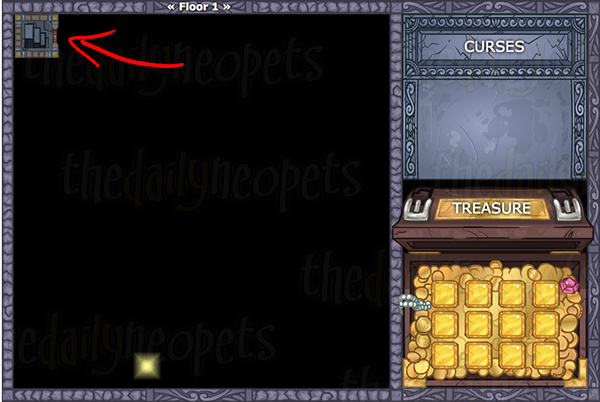 You will be given a situation and some choices on how to respond.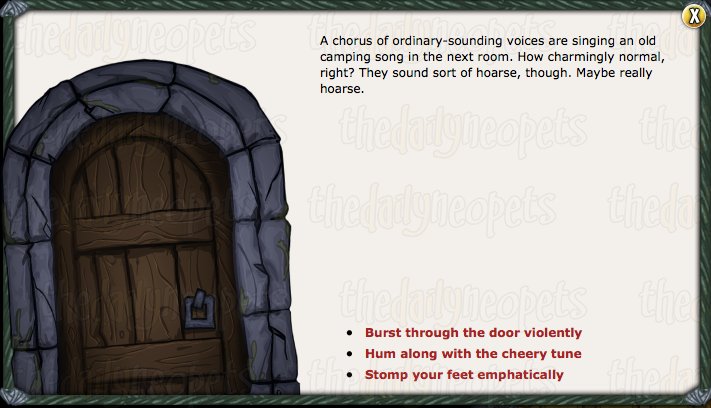 Depending what you choose, you may be cursed with any number of terrible things. (And some not so terrible!) (See below for a list of curses and their effects.)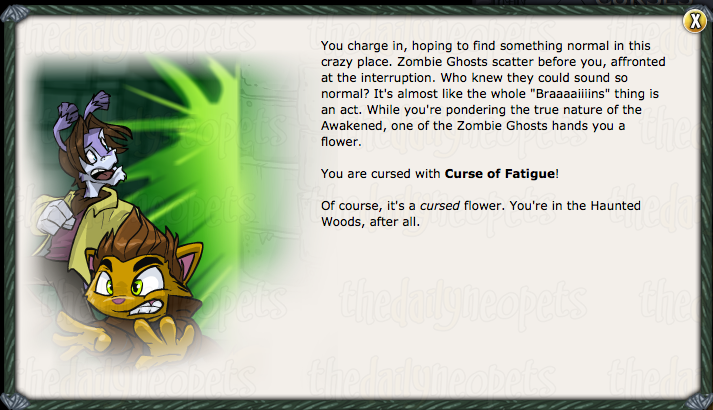 Hopefully, instead of curses, you will encounter treasures, which will show up in your treasure chest.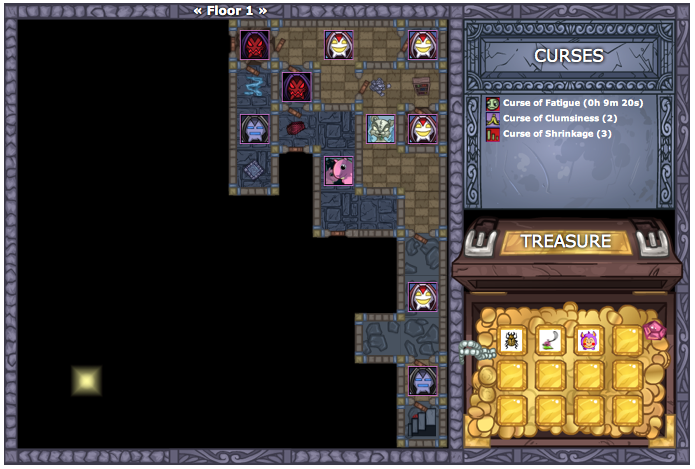 You may, at some point, encounter a door that looks like this: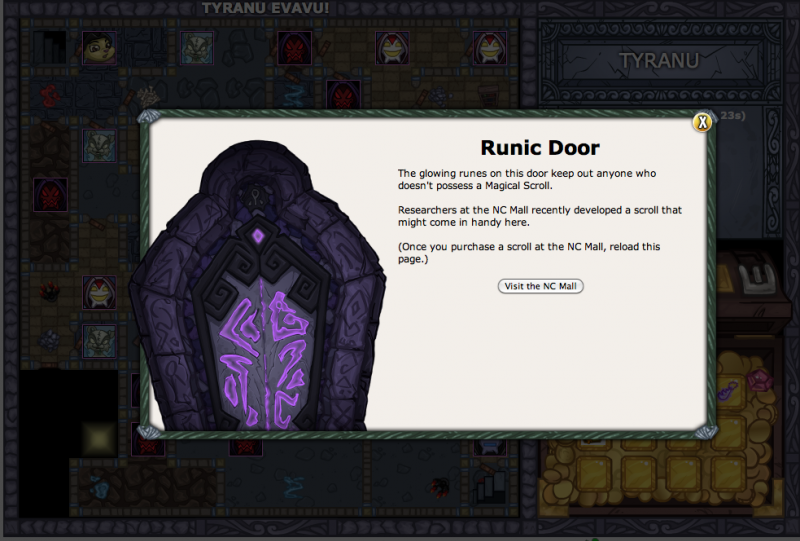 This door can only be opened using a scroll purchased in the NC Mall. (Be sure to check out our guide, here.)
Eventually, you'll reach the exit. It will ask you to confirm that you're ready to leave. If you still have unopened doors revealed, it may be a good idea to try them out before you exit the catacombs!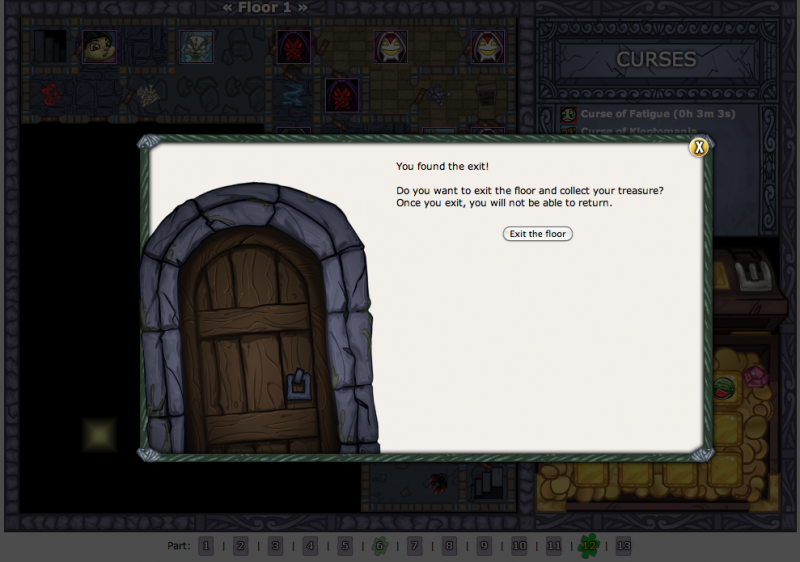 When you choose to exit, you will not be allowed to carry all of your treasures out with you; you'll have to choose! (See below for a list of prizes.)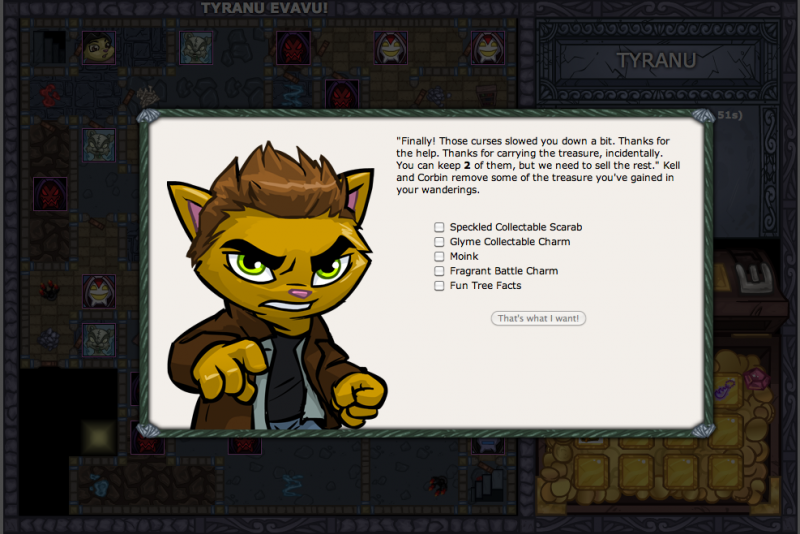 Curses
Curse of Apathy - You ignore the next curse.
Curse of Barrel Roll - Makes your window spin repeatedly.
Curse of Cleansing - Allows you to remove one curse.
Curse of Clobbering - Cautious actions like knocking result in being cursed.
Curse of Clumsiness - Dexterous actions like sneaking result in being cursed.
Curse of Craving - You eat an edible item from your treasure collection.
Curse of Cursed Treasure - The next treasure you get gives you a curse also.
Curse of Distraction - You ignore the next treasure item you find.
Curse of Fatigue - You cannot move on to the next level if this curse is active.
Curse of Feebleness - Aggressive actions such as stomping and bursting result in being cursed.
Curse of Foresight - Allows you to see what's in the next room.
Curse of Kleptomania - Your next treasure find will give you two items.
Curse of Inversion - Your game screen flips upside down.
Curse of Lethargy - Causes longer load times after choosing a door option.
Curse of Longevity - Curses acquired while this is active last longer.
Curse of Meepitude - The next room you enter is filled with Meepits, who curse you.
Curse of Mystery -
Curse of Narcolepsy - Darkens the screen.
Curse of the Pant Devil - Lose one piece of treasure.
Curse of Sarcasm - Mediating or arguing result in being cursed.
Curse of Shrinking - Temporarily shrinks your window.
Curse of Snow - Makes you unable to read anything (Tip: Press Ctrl+A to select all the text and make it readable!)
Curse of Tyranu Evavu - Makes all curses and box labels read "TYRANU EVAVU".
Riddles
Here are the riddles you may encounter while exploring The Perilous Catacombs, with their respective answers.
Q. My first is in haunted but never in good. My second is in errie but never in ichor. My third is in lucky but never in quicker. My last is in peril, but never in woods. What am I?
Help
Q. What breaks apart, comes back together, and hands out morphing potions?
Krawk Island
Q. Rattle bones, flutter sheets, sink fangs, hand out treats.
Halloween
Q. They punished pride and claimed the Obelisk's first light, with methods cloaked in the shadows of night."
Sway
Q. A tongue that wags without lips or teeth, amusing the trees it wanders beneath.
Dribblet
Q. Inside, a staircase. Outside, clouds float by. Inside, treasure. Outside, no door is spied.
The Hidden Tower
Q. What wears a bow in the morning, but glasses at night
Xweetok
Q. Two things are constant above all else in Neopia. What are they
Kreludor and Virtupets
Q. "It goes up, it is sold; it goes down below ten and five, it sits there and grows old.
Stock
Q. A cup that fills itself but once a year with the sound of many cheers. What is it
Altador Cup
Prizes
QUICK LINKS: Food | Books | Battledome and Healing | Plushies | Customization and Neohome | Stamps and Collectibles | Toys, Instruments and Petpets
Food

Anything Soup

Blumaroo Gummy Vitamins

Camouflage Hot Dog

Cantaloupe Melon

Cherimoya

Chips and Curry Sauce

Chocolate Taquitos

Chocolate Waffle Cone

Cinnamon Toasties Blast

Crab Spaghetti

Cream Cheese Dip

Delightful Petpetpet Medley

Edible Argyle Socks

Grapefruit

Ground Beef Smores

Finger Sandwiches

Haaaarrd Boiled Egg

Honey Coated Apple Slices

Jacket Potato with Chicken Wings

Left-Over Turkey Drumstick Sandwich

Marshmallow Milkshake

Neopolitan Milkshake

Numbers and Shapes Soup

Organic Cucumber Slices

Peanut Butter and Banana Sandwich

Peanut Butter and Jam Sandwich

Peanut Butter Crackers

Radish

Raspberry Usul Shake

Red Bruce Juice

Single Scoop of Sorbet

Skeith Crisps

Steamed Vegetable Dumplings

Tea Biscuits

That Fruit Basket You Forgot About

Uni Sushi

Vanilla Ghost Cake

Watermelon

Week Old Glass of Milk
Books

An Acara Named Whirr

Arr Through Yarr - A Pirates Dictionary

An Ogrins Wild Life

Babaas Baba

Bruce Blues

Collectable Cards

Clash of Moehogs

Dark Eyes the Aisha

Defenders Stand for Justice

Encyclopedia Neopia

Fun Tree Facts

Glurp

Great Reefs of Neopia

Grundo Beauty Book

Illusens Twigs

Learning To Sing Notes

Malkus Vile Book

Mazzew Grooming

Mr X

My Life As A Sponge

Neopian Chandeliers

Plushie Adventures

Serious Sadness

Skeith Tails

Snot My Fault
Striped Elephante Pop-Up Book

The Grand Usul Adventure

The History of the Origami Warf

The Hidden Temple

Webs of Death

Wings of Steel

Xweetok Ice Breakers

Yurble Adventures
Battledome and Healing

Battle Bones

Bleached Bone Staff

Bone Mace

Bubbling Cauldron OF DOOM

Essence of Esophagor

Fragrant battle charm

Moderately Evil Staff

Pumpkin Launcher

Rotten Jack-o-Lantern Bomb

Sporkle Syrup

Staff of Impenetrable Gloom
Plushies

Cook Plushie

Pirate Quiggle Plushie
Customization and Neohome

Blackberry Chair

Broken Heart Tombstone

Dainty Ink Frame

Fragrant Battle Charm

Gothic Lamp

Haunted Wood Foreground

Jhudoras Fingernails

Old Cobwebs Foreground

Jungle Cliff

Rolltop Desk

Simple Dark Decorative Daggers

Smoked Glass Divider

Wrought Iron Bed
Stamps and Collectibles

Faerieland Justice Stamp

Glyme Collectable Charm

Horned Collectable Scarab

Pinchit Collectible Charm

Rainbow Fountain Card

Schnelly Collectable Charm

Speckled Collectable Scarab

Spotted Red Collectable Scarab
Toys, Instruments and Petpets

Acko

Beekadoodle

Bikiwan

Brightvale Castle Building Blocks

Buzzer Pinata

Caprior

Dofrey

Earth Faerie Charm

Ghostkerchief

JubJub Bank

Kacheek Board Game

Moink

Pocket Faerie Pinball Game

Purple Vaeolus

Screal

Seti

Shoyru Puzzle

Strange Growling Box

Zombie Farnswap
Written by
Nellethiel
Errors or incorrect info?
Contact Us
.
Neopets Alerts
Neopets Today

Play Featured Game

Featured Band: The 2 Gallon Hatz
« Previous
Now
Next »
Feb 3rd - Zafara Day
Feb 4th - Jhudora Day
Feb 12th - Lenny Festival
Feb 14th - Valentine's Day
Feb 18th - Chocolate Chia Day
Feb 21st - Tonu Day
Feb 22nd - Mynci Day
The Runway Customization Contest
Midnight Smuggler || Seekers Astronomer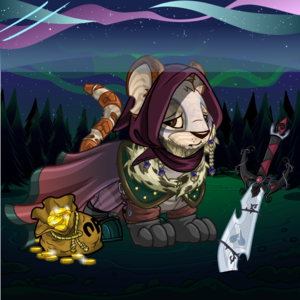 Winning entries for "Factions"!
Click the picture to see the other winning entry!
Voting has started!
Click here to vote for your favourite entries!
Recent TDN Forums Posts