Part 6 - The Shadows Beneath
The Shadows Beneath
Uh-oh... looks like we're stuck in the Wraiths' lair!
To begin this step, head over to the Cave maze

.
When you first enter the maze, everything is pitch black. You get four options at the bottom of the page: "Feel along the cave wall", "Shout a greeting", "Search the floor" and "Flail your arms wildly". You need to navigate the maze by feeling along the cave wall for all the tunnels and moving from room to room. In each room, shout to see if there is anyone there and search the floor to find objects. You can randomly find rock-themed items while doing this too, which you'll find in your inventory.
While the maze is dark, you're searching for 3 items - a stick, some lamp oil and an old rag. You find the stick by searching on the floor of each room. For the rag and the oil, you need to talk to the other prisoners and eventually you will find two who give you what you need.
Once you have the three items, head back to Xandra and she will make them into a lamp for you. Now you can re-enter the maze... and actually see where you are going, yay! The goal now is to find the 5 prisoners and free them from their bindings. When you see a prisoner in the cave, click on them and you'll be taken to a screen like this:
To save the prisoner, you need to perform the correct option depending on what it says the goo is doing. These are different for everyone, but once you work out what you have to do for each thing it is the same for the rest of the times you play. The best way to work this is basically trial and error - record when you get it right (if you get it wrong you'll be told to start over) and then every time after that that the goo does that action, you will know what to do in return! An easy way to remember is to write it down.
Once you have freed all 5 prisoners, return to Xandra and Brynn. Down the bottom of the conversation will be a link "See what items are available..." - click on that and you'll be taken to a screen like this:
Here you need to find the combination of which three items makes a wand that Xandra is happy with. You need to have one of each type of item (you may not have the same items as the 9 in the picture above, but hopefully you can work out which is which type). Select the item by clicking on it, and when you're done submit your choices for Xandra's inspection. She'll tell you how you've done and indicate whether any of the items you picked were correct, like so:
| What Xandra says... | What it means... |
| --- | --- |
| Hm, those fit together right... but they don't do anything. I don't even get a sense that any part of this wand could do magic. Let's try again. | None of the parts are in the final combination. |
| That's closer to being right... I'm not sure which parts are working, but I definitely can sense some magic potential in this wand. Let's try something else. | One of the items chosen is correct for the final combination. |
| We're almost there! This wand is almost built in a way that I can actually use it. Maybe just one more thing needs to be right... | Two parts are correct, just one is wrong. |
Once you hit on the correct combination (it's different for everyone) volia, you've escaped! As with the past steps, you can replay the maze in order to get all the achievements.
The Shadows Beneath Achievements
You can keep track of which achievements you have on your Fearless Deeds

page (scroll down!).

How Many Tunnels Must An Ixi Walk Down?
Uh, all of them, I think.
Randomly awarded while wandering through the cave.

The Goo Whisperer
You've got purple on you.
Free all 5 prisoners from the goo with no mistakes (i.e. don't be told to start over!).

Never Gonna Shut You Up, Never Gonna Quiet You Down
Seal your cake receptacle, you conniving mountebank!
Find someone to talk to (by shouting a greeting, when the caves are still dark) and keep clicking the "Shout a Greeting" repeatedly until you get the achievement.
Tip
When you are going through the caves looking for prisoners to rescue (after getting your lamp), if you are randomly clicking on caves, a quicker way to search through the caves is to click on a cave on the left (does not always work with caves on the right) and then simply Refresh your browser until you see a neopet to rescue. Pay attention to the description of the cave you are in to make sure you are not stuck in a loop (in which case you should click on a cave manually).
Random Items!
As previously mentioned, you can randomly find objects while searching the caves! Some objects that can be found include:

Cave Dwellings

Earthen Scorchstone

Eggs on Rock

Flaming Rock of Fire

Heated Rock

Mushroom Rock

Origami Rock

Rock and Bone Sculpture

Rock Candy

Rock Mote

Rock Negg

Rock Tree

Secret Of The Stones

Slorg Painted Rock

Tyrannian Rock Eraser
Written by
Izzy
Errors or incorrect info?
Contact Us
.
Neopets Alerts
Neopets Today

Play Featured Game

Featured Band: The 2 Gallon Hatz
« Previous
Now
Next »
Feb 3rd - Zafara Day
Feb 4th - Jhudora Day
Feb 12th - Lenny Festival
Feb 14th - Valentine's Day
Feb 18th - Chocolate Chia Day
Feb 21st - Tonu Day
Feb 22nd - Mynci Day
The Runway Customization Contest
Midnight Smuggler || Seekers Astronomer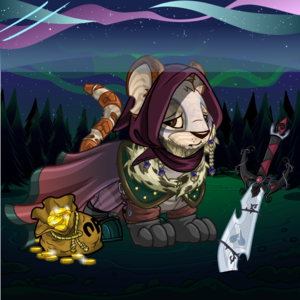 Winning entries for "Factions"!
Click the picture to see the other winning entry!
Voting has started!
Click here to vote for your favourite entries!
Recent TDN Forums Posts